CADS CE Social Club Membership
11/3/2022 • 5.25 CEUs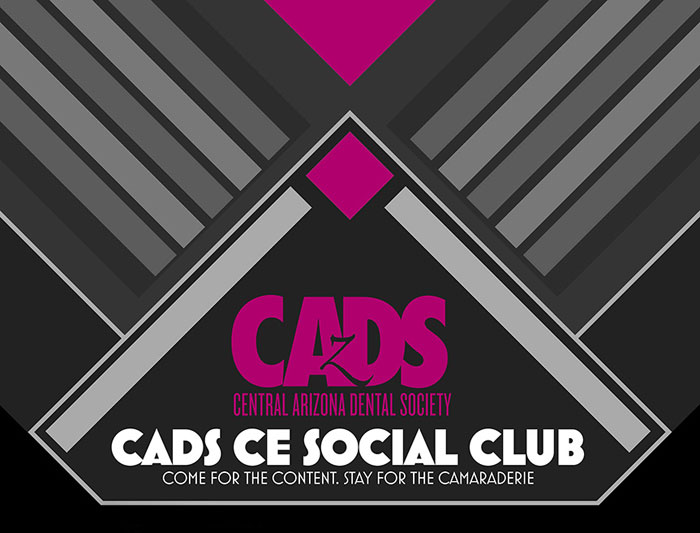 Individual Study Club registration links will be sent separately after the membership fee has been received. Individual courses will have a charge to cover the cost of dinner.
Thursday, June 23- Dentistry in the Digital World- Dr. Robert Ritter
Tuesday, August 23—Anterior All-Ceramic Restorations: Veneers Being Your First Choice- Dr. Brian LaSage
Wednesday, November 2—Managing Occlusion and TMD: Case Study Approach- Dr. Bo Bruce
How the social club works:
CADS dentists, you're invited to join an exclusive study club for just component members. The CADS CE Social Club is an opportunity for you to mix, mingle, make some new friends, and then enjoy a nice meal with your CADS colleagues—followed by learning from some of the best speakers around the world.
To join the club, it's $50 for CADS member dentists, and then it's just $30 per CE event you attend (that $30 just goes toward covering the cost of food and beverage).
Here's what to do—make sure you follow these steps.
Click the button below to take care of your initial $50 membership dues to the CE social club.
Once you've paid your membership dues, you'll receive a payment confirmation email from CADS that also contains hyperlinks to three CE events (Jun 23, Aug 23, and Nov 2). Clicking on these links will allow you to learn what CE is being offered, and you'll be able to register for that individual CE—that cost will be $30/course you register for.
Just to recap, this is a two-part registration system: you have to register first as a club member ($50) by clicking the button below. After you do that, you have to register for each individual CE you want to attend by clicking on the hyperlinks in the confirmation email that will be sent to you.
If you have questions, email
education@azda.org
Schedule:
Thursday, June 23, 2022: 6:30pm
Tuesday, August 23, 2022: 6:30pm
Wednesday, November 2, 2022: 6:30pm




Location:
Arizona Dental Association
3193 N Drinkwater Blvd
Scottsdale 85251 (
Map
)
(480) 344-5777
Registration:
$0 - ASDA (dental student)
$50 - AzDA Dentist
$100 - Non-Member Dentist