Comprehensive Botulinum Toxin Hands-on Program: Cosmetic & Therapeutic Treatments
10/22/2022 • 8 CEUs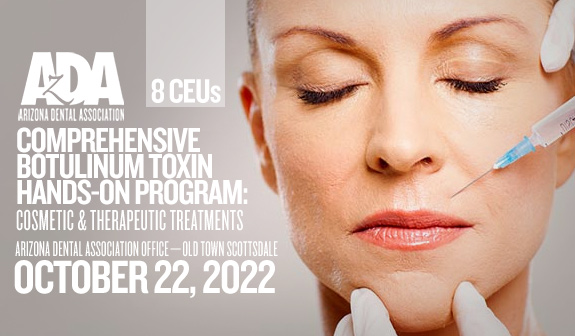 Join us for an interactive, hands-on program on the most popular aesthetic and dental therapeutic Botulinum Toxin treatments. This comprehensive program includes didactic learning as well as 1:1 guided clinical training to ensure you have the complete education and confidence needed to offer these valuable treatments immediately after course completion.
This A-Z course will cover physiology and pharmacology for Botulinum Toxins, indications/contraindications, how to avoid possible adverse reactions, and the best treatment techniques, and injection points to provide the best aesthetic outcomes. The course will also cover many implementation topics such as pricing and how to market these services to your dental patients to ensure total success and continued business growth. Expert national trainers will cover the proper handling; reconstituting, shelf life, storage, preparation and dilution to ensure you have the most current and complete education.
After lectures, we will be doing interactive hands-on training where you will observe the consultation process and treatment for each doctor/patient at the course, enabling you to learn treatments for varying ages, anatomy, and treatment areas to provide the best aesthetic outcomes. You will perform your own consultation on a model patient by effectively evaluating and presenting various options based on their concerns and expectations. After learning the best treatment techniques, proper injection points, correct dermal and muscular depths, and proper dosing and delivery of Botulinum Toxin, one-on-one mentored instruction is provided as you perform multiple treatments on your patient. You can choose to either bring a patient or I can provide a volunteer who qualifies for treatments. A comprehensive manual will be provided to each attendee.
Receive all the necessary fundamentals to:
Become a successful Botulinum Toxin provider
Evaluate and consult patients on various beneficial cosmetic and therapeutic Botulinum Toxin treatments
Diagnose, treat and chart for various treatments
Understand the indications, contraindications, and safety protocols for these treatments
Gain a significant dental competitive advantage
Compliment aesthetic & therapeutic dentistry cases
Generate new and frequent recurring business
Complete review of facial anatomy, physiology and pharmacology of Botulinum Toxin
Dr. Mike Golsen:
Mike Golsen, DMD, MBA is national trainer for DentaSpa Seminars and Board member for the International Academy of Facial Aesthetics, teaching alumni nationwide how to successfully implement cosmetic and therapeutic uses of BOTOX® and dermal filler dental treatments. Seeing the tremendous growth of facial injectable treatments in dentistry, he went on to earn more than 200 CE credits on the subject and in 2012, officially implemented these treatments into his practice. Since he became an educator in 2015, he has dedicated over 1000 hours teaching and training dentists on facial injectables.

Dr. Golsen has been practicing dentistry for 30 years and was the founder and co-owner of Golsen Family Dentistry, a family and cosmetic dental practice in Alpharetta ,GA. Golsen Family Dentistry was a benchmark practice built on quality patient care and customer service. While in private practice from 1986 to 2014, Dr. Golsen's focus was functional aesthetics/cosmetic dentistry coupled with facial pain and TMD management. He incorporated and blended services such as invisalign and facial aesthetics to add value to his practice and patients. Acquiring 'Premiere Preferred Provider' status with Invisalign in 2013, he earned over 230 hours in Invisalign and orthodontic continuing education.
In 2018 Dr. Golsen founded Atlanta Digital Coaching to teach dentists how to implement Dental Photography and Digital Technology into their dental practices.
Dr. Golsen's involvement with organized and continuing education is extensive and he believes that "learning is continuous."

Dr. Golsen is a 2nd generation Dentist who received his BA from Emory University and DMD from the Medical College of Georgia, School of Dentistry. He later went on to earn an MBA from Kennesaw State University.

Dr. Golsen believes that value added services such as BOTOX® and dermal fillers are a game changer for the modern dental practice and that dentist are positioned best to provide such services.


DentaSpa™ is the world's leader in BOTOX® and dermal fillers education and business integration designed exclusively for dental practitioners. DentaSpa™ offers dentists complete business and clinical integration in this field by providing alumni comprehensive hands-on training programs, marketing services, business consulting and access to continuous field growth and support through the International Academy of Facial Aesthetics.

BOTOX and Dermal Fillers are the fastest growing specialty in dentistry and patients are increasingly seeking these procedures from their dentists for comprehensive smile makeovers and dental therapeutics.

DentaSpa™ is proud to be at the forefront of this exciting, growing niche, offering alumni an unparalleled educational experience.

Bringing more than 200 years of industry expertise under one roof, DentaSpa™ offers alumni expert instructors who have trained thousands of doctors worldwide. DentaSpa™ is headquartered in Miami, Florida and conducts monthly seminars in various major cities in the USA including New York, Atlanta, Chicago, Scottsdale, San Francisco, Los Angeles, Minneapolis and Miami.


Schedule:
7:30-8:00am - Registration & Continental Breakfast
8:00-4:00pm - Lecture/Hands-on Program


Location:
Arizona Dental Association
3193 N Drinkwater Blvd
Scottsdale 85251 (
Map
)
(480) 344-5777

Arizona Dental Association is an ADA CERP Recognized Provider. ADA CERP is a service of the American Dental Association to assist dental professionals in identifying quality providers of continuing dental education. ADA CERP does not approve or endorse individual courses or instructors, nor does it imply acceptance of credit hours by boards of dentistry. Concerns or complaints about a CE provider may be directed to the provider or to the Commission for Continuing Education Provider Recognition at
ADA.org/CERP
.