Advocacy Bootcamp
1/21/2023 • 1 CEUs
AzDA member dentist price
$0 Non-member dentist price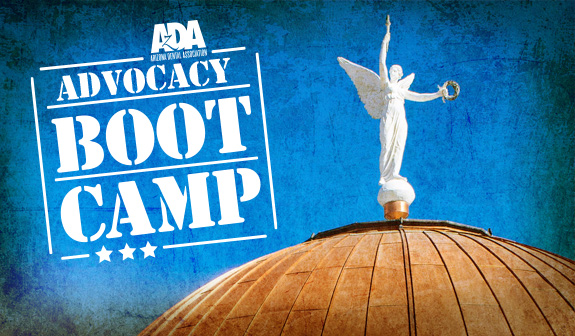 How exactly does dental legislation go through Arizona's House and Senate? How and when is it signed into law? More important, how can you have your voice heard regarding legislation that will directly affect your practice?
If the inner workings down at the Arizona Capitol have always been a mystery; if you've always been a little intimidated about communicating with Arizona legislators, or if you've just wanted to know about how dental legislation works, AzDA invites you to Advocacy Bootcamp at the AzDA office in Old Town Scottsdale on Saturday, January 21, 2023.
The 2023 bootcamp will be headlined by former Arizona State Representative (current AzDA Executive Director) Dr. Regina Cobb. Having served in the Arizona Legislature for the past eight years, Dr. Cobb is uniquely qualified to provide a perspective and insights from both a dentist's and a legislator's point of view. She's has been in the legislative trenches, knows how to navigate through the partisan waters to get bill passed at the Capitol, and can share what's really going on behind the legislative curtain.
Whether you're brand new to dental advocacy or you're a seasoned veteran, you're going to enjoy collaborating with new dentist colleagues, and your understanding and confidence regarding state/local politics will get a boost at this half-day bootcamp—you'll definitely be "in the know."
Schedule:
8:00am- 11:00am


Location:
Arizona Dental Association
3193 N Drinkwater Blvd
Scottsdale 85251 (
Map
)
(480) 344-5777
Registration:
$0 - ASDA (dental student)
$0 - AzDA Dentist
$0 - Non-Member Dentist

Arizona Dental Association is an ADA CERP Recognized Provider. ADA CERP is a service of the American Dental Association to assist dental professionals in identifying quality providers of continuing dental education. ADA CERP does not approve or endorse individual courses or instructors, nor does it imply acceptance of credit hours by boards of dentistry. Concerns or complaints about a CE provider may be directed to the provider or to the Commission for Continuing Education Provider Recognition at
ADA.org/CERP
.